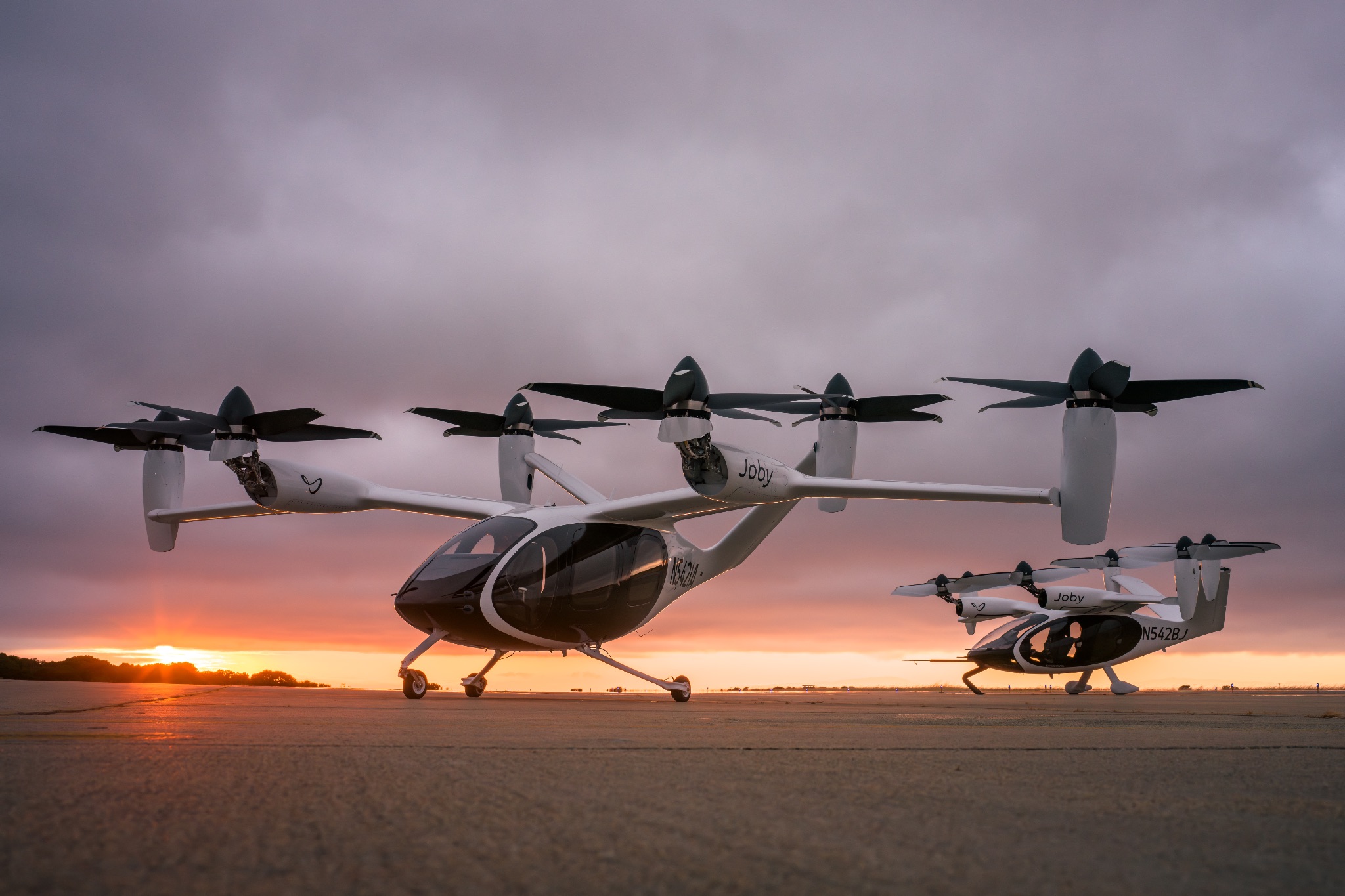 The first aircraft to come off Joby's Pilot Production Line in Marina, CA (left). (Photo credit: Joby Aviation)
---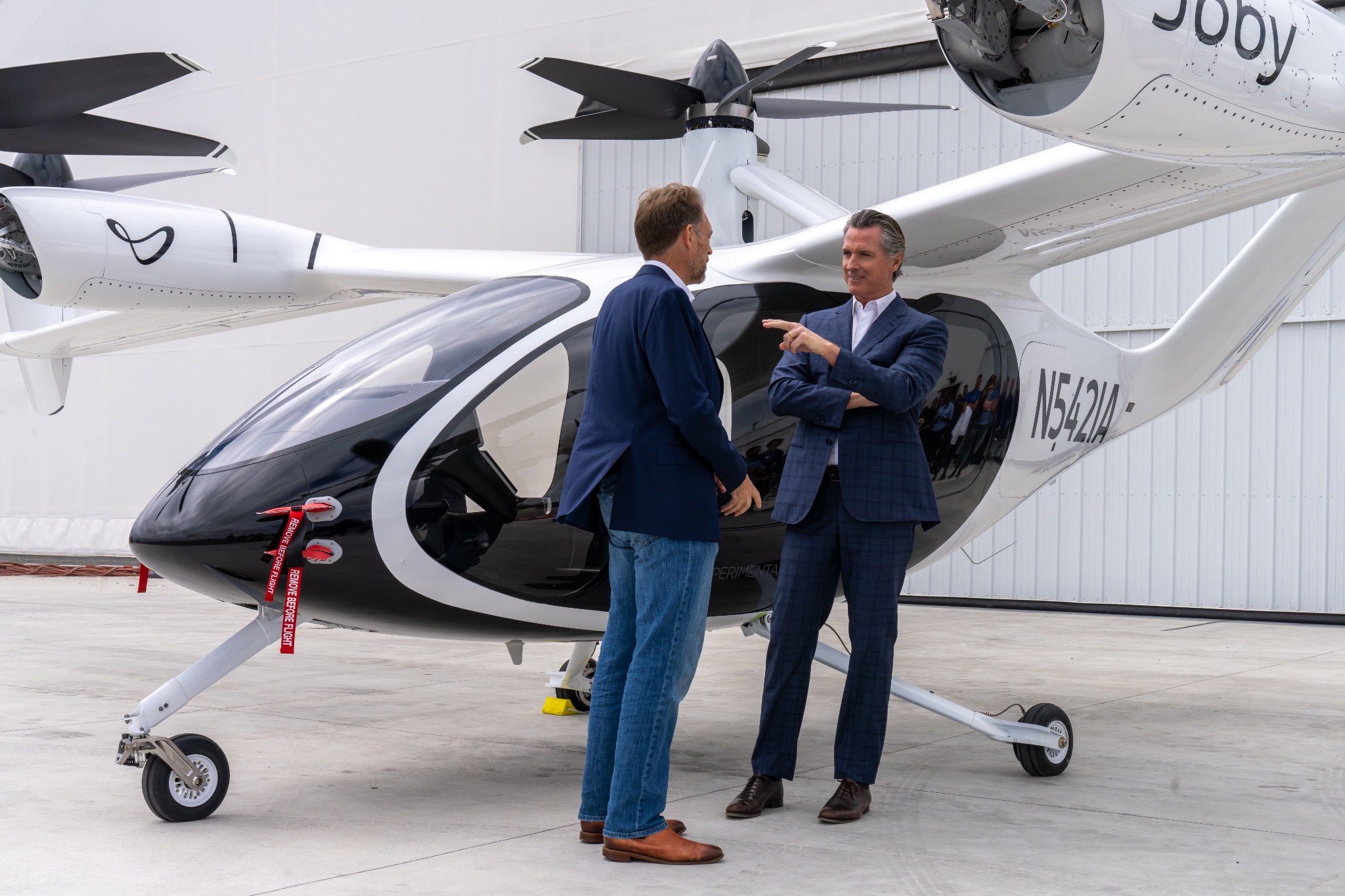 California Governor Gavin Newsom (right) and JoeBen Bevirt, Joby Aviation's Founder and CEO (left), standing in front of the first aircraft to come off Joby's Pilot Production Line in Marina, CA. (Photo credit: Joby Aviation)
JOBY MARKS PRODUCTION LAUNCH, RECEIVES PERMIT TO
FLY FIRST AIRCRAFT BUILT ON PRODUCTION LINE
●Joby has received a Special Airworthiness Certificate for the first aircraft built at its Pilot Production Line in Marina, CA, allowing flight testing to begin
●The aircraft is expected to become the first ever eVTOL aircraft to be delivered to a customer
●Production line and aircraft built in close collaboration with strategic partner and investor, Toyota
●California Governor Gavin Newsom visited Joby to mark the occasion
Santa Cruz, CA, June 28, 2023 — Joby Aviation, Inc. (NYSE:JOBY), a company developing all-electric aircraft for commercial passenger service, today announced it has received a Special Airworthiness Certificate for the first aircraft built at its Pilot Production Line in Marina, California.
---
Issued by the Federal Aviation Administration, the certificate allows Joby to begin flight testing of its first production prototype.
The aircraft is expected to become the first ever eVTOL aircraft to be delivered to a customer when it moves to Edwards Air Force Base in 2024 to be operated by Joby as part of the Company's Agility Prime contract with the U.S. Air Force, worth up to $131 million.
Joby has been flying full size aircraft since 2017 and its pre-production prototype aircraft have flown more than 30,000 miles since 2019. Today's production prototype builds on that experience and marks another important step toward achieving FAA certification and production at scale.
Commenting on Joby's progress, JoeBen Bevirt, founder and CEO of Joby, said: "Today's achievement is the culmination of years of investment in our processes and technology and it marks a major step on our journey to scaled production.
"We're proud to have launched production in our home state of California. I'm incredibly grateful to the Joby team for their commitment to ensuring Joby remains the clear leader in this new sector and to Toyota for sharing their knowledge and experience with us over many years. Their support has been indispensable in helping us reach this point."
California Governor Gavin Newsom visited Joby's facilities on Sunday to meet with Joby team members and celebrate the Company's progress.
"California is proud to be home to some of the world's most innovative companies. Joby is changing the game when it comes to the next frontier of flight: zero emission aviation," said Governor Gavin Newsom. "Our world-leading climate action relies on the technological advances and pioneering spirit of the private sector. Creating jobs and cutting pollution — that's the California way."
Recognizing the key role Toyota has played in the design of Joby's Pilot Production Line, as well as in the production and assembly of the Joby aircraft, Tetsuo "Ted" Ogawa, President and Chief Executive Officer of Toyota Motor North America, Inc., will join more than 1,000 guests and team members at Joby's Marina facility later today to celebrate the launch of production.
Ogawa, who will join Joby's Board of Directors on July 1, 2023, said: "We congratulate Joby on reaching this milestone and look forward to working ever more closely as Joby prepares to scale production and start operations."
Toyota is Joby's largest external shareholder, having invested around $400 million in the Company, and the two companies recently signed a long-term agreement for the supply of powertrain and actuation components.
---
Joby's production prototype aircraft has been manufactured in accordance with a released design and built according to a complete implementation of a quality management system — an important step on the path to achieving the Federal Aviation Administration type certification required to begin commercial passenger operations.
Joby plans to begin commercial passenger operations in 2025 and recently partnered with Delta Air Lines to deliver seamless, emissions-free travel for Delta customers traveling to and from airports. Gail Grimmett, Senior Vice President, Sustainability Performance and Strategic Partnerships at Delta, said: "Today marks an important step forward on the journey to deliver a more sustainable future of travel while elevating the customer experience. The innovation know-how and spirit that drives Joby made today's celebration possible and we're excited to march one step closer to offering this service to our customers."
During today's event, the team behind Joby's aircraft will highlight some of the incredible engineering that sets Joby's aircraft apart as well as confirming the expected performance of its production aircraft.
The aircraft will now undergo initial flight testing before being delivered to Edwards Air Force Base, California, where it will be used to demonstrate a range of potential logistics use cases.
Media Assets
Photos and footage of Joby's production prototype aircraft and production facilities here (https://drive.google.com/drive/folders/1cSz-R1QqC7ACA9IyB8SoZ_U5rwtOd1hl).
Photos and footage of Governor Newsom's visit to Joby are available here (https://drive.google.com/drive/folders/1gzy8N6oYw864St4EaMEgKqb8cbO8yR4T).
Presentation materials from the event are available here (https://drive.google.com/drive/folders/1cSz-R1QqC7ACA9IyB8SoZ_U5rwtOd1hl).
About Joby
Joby Aviation, Inc. (NYSE:JOBY) is a California-based transportation company developing an all-electric, vertical take-off and landing air taxi which it intends to operate as part of a fast, quiet, and convenient service in cities around the world. To learn more, visit www.jobyaviation.com.
Forward Looking Statements
This press release contains "forward-looking statements" within the meaning of the "safe harbor" provisions of the Private Securities Litigation Reform Act of 1995, including but not limited to, statements regarding the expectation to become the first ever eVTOL aircraft to be delivered to a customer, the planned timing for delivery of the aircraft to Edwards Air Force Base and the potential value of the Company's contract with the U.S. Air Force; the development and performance of our aircraft, the growth of our manufacturing capabilities, our regulatory outlook,
---
progress and timing; our business plan, objectives, goals and market opportunity; plans for, and potential benefits of, our strategic partnerships; and our current expectations relating to our business, financial condition, results of operations, prospects, capital needs and growth of our operations, including the expected benefits of our vertically-integrated business model. You can identify forward-looking statements by the fact that they do not relate strictly to historical or current facts. These statements may include words such as "anticipate", "estimate", "expect", "project", "plan", "intend", "believe", "may", "will", "should", "can have", "likely" and other words and terms of similar meaning in connection with any discussion of the timing or nature of future operating or financial performance or other events. All forward looking statements are subject to risks and uncertainties that may cause actual results to differ materially, including: our ability to launch our aerial ridesharing service and the growth of the urban air mobility market generally; our ability to produce aircraft that meet our performance expectations in the volumes and on the timelines that we project, and our ability to launch our service; the competitive environment in which we operate; our future capital needs; our ability to adequately protect and enforce our intellectual property rights; our ability to effectively respond to evolving regulations and standards relating to our aircraft; our reliance on third-party suppliers and service partners; uncertainties related to our estimates of the size of the market for our service and future revenue opportunities; and other important factors discussed in the section titled "Risk Factors" in our Annual Report on Form 10-K, filed with the Securities and Exchange Commission (the "SEC") on March 1, 2023, and in future filings and other reports we file with or furnish to the SEC. Any such forward-looking statements represent management's estimates and beliefs as of the date of this presentation. While we may elect to update such forward-looking statements at some point in the future, we disclaim any obligation to do so, even if subsequent events cause our views to change.
Contacts:
Joby Aviation
Investors:
investors@jobyaviation.com
Media:
press@jobyaviation.com